Price list 2023 & General conditions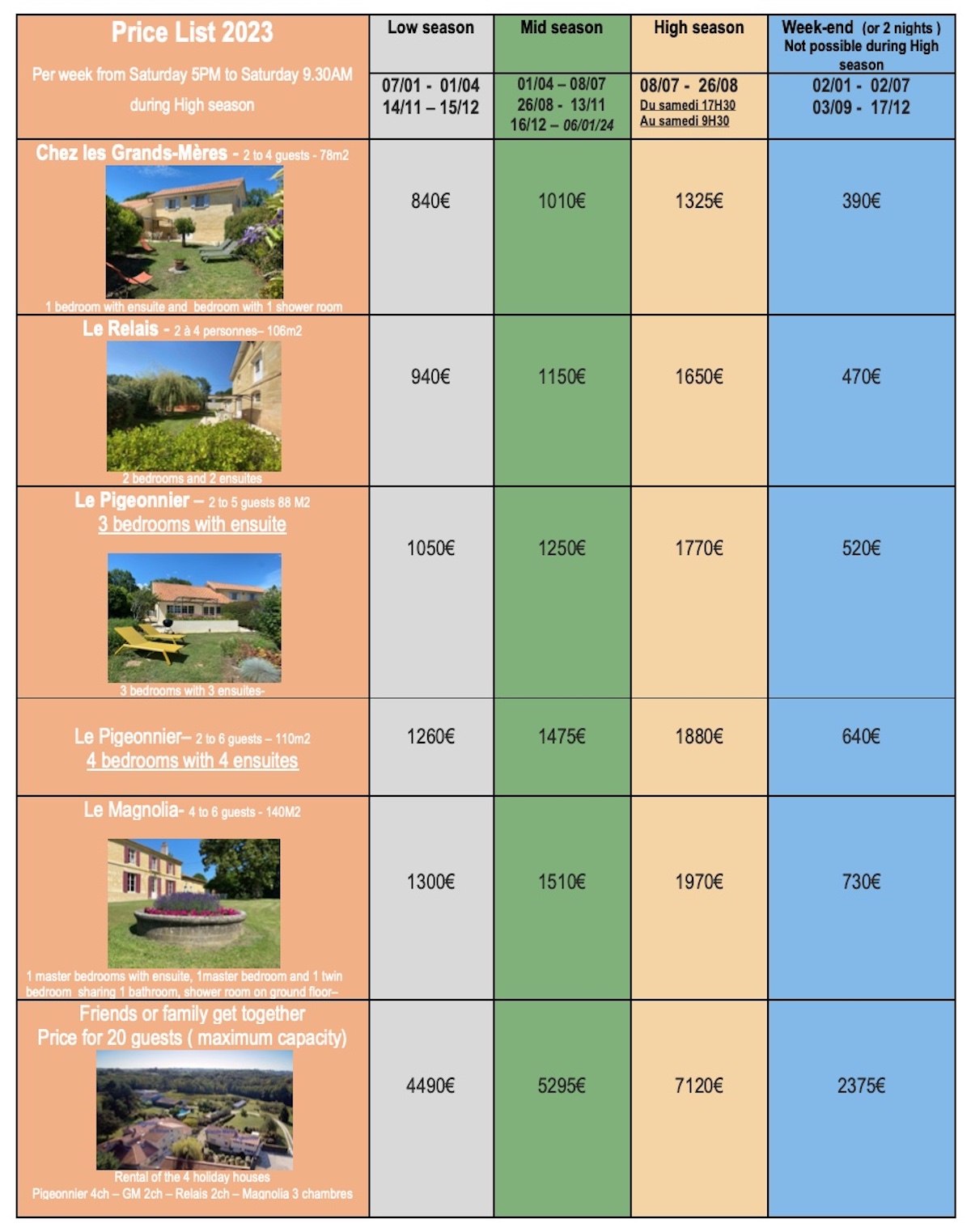 stay tax : 1,10€ per adult and per night

This price list includes  : end of stay cleaning, sheets (except for a monthly rent ), towels, beach towels, soap, dishwasher powder, oil, salt, pepper, vinegar, toilet paper, baby equipment on demand ( cot, high chair, baby bath), water, electricity, heater ( temperature 19 to 20°C), WI-FI
Are not included in the price :  coal for the BBQ
Rental of the 4 holiday houses : are included in this price : in the dining room of le Magnolia : table and chairs for 20 and in the garden of le Magnolia : table and chairs for 20 + table cloth for both tables + 2 BBQ at le Magnolia
An intermidiate cleaning is also availbale if you which it  is charge : 130€ for Le Pigeonnier, 130€ for Le Magnolia, 90€ for le Relais and 80€ for Chez les Grands-Mères.
Bond : 500€  by Credit card terminalper holiday house

Payment : CB, Bank Transfer
NB : Those prices include a 10%VAT
SARL CARL LA GONTRIE
13 Chemin de Fosse Ferrière
Saint Caprais de Bordeaux 33880 FRANCE
www.chateaulagontrie.net
Only the contract sent by the SARL CARL LA GONTRIE  and signed between SARL CARL LA GONTRIE and the tenant is valid.
A bond of  500 EUROS per holiday house is to be paid on arrival in cash and is refunded at the end of the stay. The bond will be returned unde 8 day after your stay if the farmhouse is handed back in the same condition as it was let: clean and undamaged.  In event of a cancellation, the bond will be returned, but all other payments will be forfeited unless other tenants are found for the same period at the same price.
by signing this contract you accept to not visit web sites forbidden in France.
You use the private pool at your own risk. Children should be supervised at all times.
Cleaning service included in our prices and you are expected to leave your cottage clean and neat. If necessary we will charge an extra cleaning fee which is of 120€ for Le Pigeonnier and it will be deduced from your bond. Thank you to take out your rubbish bags and put them in the big rubbish bean provided on the parking. . The washing dishes must be empty and dishes packed back in the cupboard.
Prices quoted include the following: Electricity, water, (except for the heater see mention*above), cot(available on request), cleaning products, bed linen, and use of the swimming pool
Prices quoted exclude the following : Use of telephone, washing powder and coal for BBQ
4.In event of a cancellation, payments will be forfeited unless other tenants are found for      the same period, and at the same price. We do recommend you to take your own insurance for cancellation.
New Cancellation Policy
If further COVID-19 restrictions are introduced, or if there is any other Coronavirus related reason why you are unable to travel, you can claim a credit note for 100% of the amount that you have paid (there are no cancellation charges or admin fees). This allows you to postpone your holiday for up to 31/12/2022.
We hope this answers many of your questions. If you haven't found the information you're looking for please contact us.
     5. Accommodation is available on a weekly basis only; from Saturday to Saturday.
     6. Guests must arrive after 5.30 P.M. on the Saturday and leave before 9.30 A.M. on the departing Saturday (to allow time for preparing for the next guests).
7. No extra guest are allowed to sleep over night or to use the facilities on the premises.
It is strictly forbidden to smoke in the gites.
9. Only the tribunal of Bordeaux will be competent in the case of litigation
10. For a rental of 2 successive weeks in the same gite, a 15 % discount applies on the second week will be given
11. You use the private pool at your own risk. Children should be supervised at all times
12. No drinks are allowed in the inclosed area of the swimming pool (for security reasons).
We have set up a swimming pool Schedule for each Holiday house so they can fully enjoy the use of a private swimming pool 3 hours every day